In Deurne aan de Eksterlaarlaan komt een cohousingproject met
23 woningen en appartementen
. Je woont in een rustige buurt in de groene rand van Antwerpen. Op wandelafstand vind je het Boekenbergpark met zwemvijver. Zin om in Antwerpen centrum te vertoeven? Geen probleem. Je woont op fietsafstand van Berchem Station en de bruisende stad Antwerpen.
Samen met de bewoners denk je na over de gedeelde ruimtes. Denk aan een coworking, een ontmoetingsruimte voor feesten, een logeerkamer of een atelier.  Daarnaast kan je elkaar spontaan ontmoeten in de grote gedeelde tuin. Ook je eigen woning mag je mee ontwerpen. In samenspraak met de architect bepaal je zelf hoe jouw woning eruitziet.
In een notendop:
23 woningen en appartementen
in de groene rand van Antwerpen
met ruime gemeenschappelijke delen zoals een keuken, eetruimte, co-working, wassalon…
een grote gemeenschappelijke tuin
op fietsafstand van stadscentrum Antwerpen en ruime parken
Architect: Collectief Mars
Landschapsarchitect: Studio K
Eerstvolgende stappen
De bewonersgroep uitbreiden
Ontwerp samen uitwerken
De omgevingsaanvraag indienen (najaar 2019)
Meer info over het project? Schrijf je in voor een infosessie via ons interesseformulier.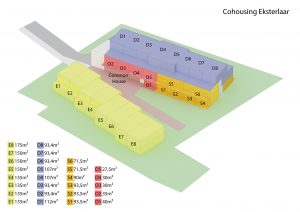 lot
type
slaapk
bruto opp m²
tuin of
terras m²
excl BTW*
S1
simplex gv
2
90
12
€285.000
S2
simplex gv
2
90
12
€285.000
S3
simplex gv
2
90
12
€285.000
S6
simplex +1
1
77
23
€290.000
D1
duplex +1
2
114
23
€350.000
D3
duplex +1
2
93
23
€275.000
D4
duplex +1
2
107
17
€299.000
E1
woning
3
143
36
€406.150
E4
woning
3
136
36
€379.250
*prijzen voor volledig afgewerkte appartementen en woningen inclusief gemeenschappelijke delen. Prijzen zijn exclusief BTW, registratierechten en notariskosten.
Andere projecten in de buurt: Burcht, Edegem Minerve.